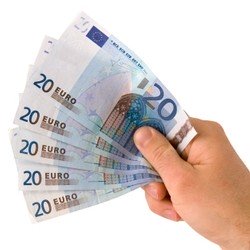 There are many ways to have a successful date with a low budget. It isn't money that makes a date work; money only really affects the date location. What makes a date work is a person you share it with, and the thought that has been put into the date. Dates that cost less are usually very successful as they allow some creativity and thoughtfulness. Regardless of the date location, the aim is to get to know someone by spending quality time with them, and this can be done whether you spend a fortune or a little amount of money.

We have outlined some date ideas for a relatively low budget, or practically no budget at all:
Go for a romantic walk in the park, countryside or even the seaside. Walking doesn't cost anything but still allows you to spend time with each other. Walking in the cold can be romantic, enabling you to cuddle up to keep warm.
Watch a film at home. Whether you rent a DVD or watch something you already have, you can create your own private cinema and buy some popcorn to share.
Go to the cinema. Although cinema tickets can be pricey, it is still cheaper than a fancy restaurant. Some cinemas offer discount days or discount for certain showings or online discount, so it is worth checking this out. Take your own nibbles to avoid paying costly cinema food prices.
Enjoy a picnic together. You can choose any location whether it is in the park, the countryside, at the coast, or even in your garden. If the weather isn't good, why not have a picnic in your living room? You can make it as fancy or simple as you wish.
Offer to cook a meal at home. It will cost to buy the food and drink, but it will still be cheaper than a restaurant and you will have control over the budget, plus you will have privacy which a restaurant doesn't offer.
If you don't like cooking, order a takeaway. They are a fraction of restaurant prices, plus you usually get a lot of food. You can take this opportunity to share food with each other and try something new.
If you really enjoy going to restaurants but don't like paying the expensive prices, why not go out for lunch instead of dinner. Most restaurants offer a cheaper lunchtime menu, or alternatively, you could go to a pub for lunch, which is often cheaper than restaurants.
A trip to the beach regardless of the time of year is a great date. If the weather isn't good, then you have each other to keep you warm. It can be romantic walking by the sea.
If you are both interested in sport, why not arrange to take part in an activity together. If you like squash, then book a court and have a game. You can always have a drink or bite to eat afterwards. An activity date can help to relax you, plus give you the opportunity to see how fit your date is.
Visit an art gallery or museum. Some are low cost while others don't charge at all. Looking at exhibitions together will give you something to discuss both during and after the visit.
If you are interested in nature, why not go bird watching. You can simply take some binoculars with you and go for a stroll in the countryside.
Meet each other for a coffee. A coffee date is cheaper than a dinner date, and even a lunch date. Getting to know each other over a coffee allows you to spend quality time together, often in the comfort of cushy chairs in a coffee shop.
If you enjoy walking in the park, why not take some bread along and feed the ducks. It is surprising how a small task such as feeding the ducks can be very enjoyable when shared with someone special.
Visit a lookout point to watch a sunset or even a sunrise for a romantic date. Be careful that you don't get locked in though if there is a barrier which closes at a certain time.
If you both enjoy being active, you could always go on a bike ride together. This will be cost-free if you have your own bike. Alternatively, you could visit a nature reserve as many of them have bikes to hire and provide cycle paths.
If you enjoy being outdoors at night, why not go stargazing together. A quiet spot with little or no light is ideal, such as the countryside. Remember to take your binoculars with you. If the weather isn't great, staying indoors and playing a board game is a lot of fun. Playing games is a great way to relax and have a good time, without spending any money.
Flying a kite together is a good way to enjoy yourself, especially if you make the kite yourself.
If you enjoy poetry, you could visit a book shop when there is a poetry reading happening. It won't cost anything but will be something you can share together and discuss afterwards.
If comedy is your thing, why not visit a comedy club. You are sure to end up laughing, which is a great way to bring two people closer together. If you enjoy going to the theatre but find it too pricey, then a comedy club is a great alternative.
Why not start a new hobby together. If there is something you would both like to learn, such as painting or pottery, attend a class together. This way you will get to spend time with your date, have something to discuss and learn something new at the same time. You can always practice your hobby together at other times. Attending a class will cost money, but it will be cheaper than several visits to a restaurant or cinema.